Next Ready, Row! USA is July 10 – Enjoy the Holiday!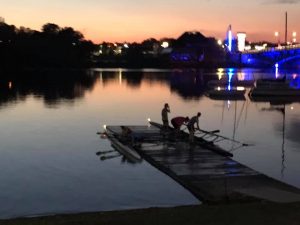 After a brief holiday break, our next episode on July 10 will feature an exciting new format that we think you'll appreciate. Hosts Charlotte, Tara, and Mark will look into US Rowing's approach to  Masters and an ongoing Canadian study on Masters athletes. Learn-to-Row advocate Tara promises some gems on leveraging your LTR experience, for both club and participant. Expect these topics and more, and a lively discussion!
Remember to submit your favorite Gadgets, Gear & Hacks and your Club News. Please let us know if you'd like to come on the show and showcase your rowing club in person (see tech requirements). No club is too small, too new, or too old; no gadget too cheap or too elaborate!
The producer and host of Ready, Row! USA is Charlotte Pierce; our regular correspondents are Mark Wilson  and Tara Morgan; and our executive producer is Rebecca Caroe of Rowing.Chat.
Ready, Row! USA is part of the international RowingChat network and features the best of rowing news, gadgets & gear from clubs, rowers, and vendors across the country. You can subscribe to receive notifications of upcoming shows, send in news tips, and join our community on this website and on our YouTube channel. Thanks to our fabulous sponsors for making all this possible!