Ready, Row! USA: Recap of Masters Nationals
For our exciting 27th episode of Ready, Row! USA, correspondents Mark Wilson, Ryan Worth, and Alison Pollini recall the sweat, the tears, the sweet smell of victory, and the agony of the feet from Masters Nationals in Grand Rapids, MI and look forward to next year's event in Oakland, CA.
The producer of Ready, Row! USA is Charlotte Pierce; our associate producer and frequent host is Tara Morgan; our senior correspondent and occasional host is Mark Wilson; correspondents include Ryan Worth of UT/Chattanooga Rowing and Alison Pollini of Carnegie Lake. Our executive producer is Rebecca Caroe of Rowing.Chat.
Please patronize our fabulous SPONSORS
who make it possible to present this podcast:
Oar Inspired's GoPro Mount
Faster Masters training program
Rose and Thorne Active Bras
Visit our Sponsors page for discount codes!
2019 US Rowing Masters Nationals took the nation's top (and most available) rowers to Grand Rapids, MI, home of the venerable Grand Rapids Rowing Association.  Last held here in 2014, this year's event topped those entries by more than 600, featured real-time live broadcast at the venue on big screens and online on YouTube, with fast results published by HereNow, a staple at US Rowing regattas now.
Click HERE to see the event's complete results, as listed by team.  Congrats to Chinook Racing for the all-points trophy and to Western Reserve Rowing Association as the nation's #1 winning club team.  With 149 clubs, 30 countries, 2124 entries and 200 events plus vendors and a beer garden, this event was packed with sweet competition from masters across the age categories.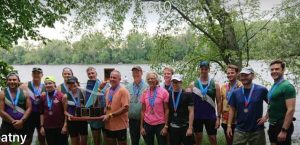 PICTURED: Western Reserve Rowing Association bringing home some big hardware (from their Facebook page)
RRUSA correspondents Mark and Ryan reported nothing but kudos for US Rowing and the Local Organizing Committee's efforts to bring more sponsors, provide a great venue with smooth load and launch docks, vendor area and of course the much-visited beer garden.  One major challenge for folks as both rowers and coach's herding rowers and equipment was the raising of the event cap.  Typically a rower is capped at 5 or 6 races for a whole event; here, that number was lifted altogether. This led to wait-listing, semi-finals, and some rower fatigue as 9 events turned into many many more.
For Grand Rapids as a city, they stand to benefit from more than $1m in hospitality revenue from the weekend.  Click here to read more about the event.
Thanks to new RRUSA contributor Alison Pollini of Carnegie Lake RC for sharing her impressions, from the coach's (in 2014) and now competing rower perspective.  We're looking forward to more from Alison in future episodes!
Race Weekend Insights from Mark Wilson: Grand Rapids provided an outstanding venue for the spectators, vendors, and racers.  There is great viewing along the river, shade in the trailer and staging area, a nice wide paved path for access to the docks, Docks located at the 500m mark, plenty of warm up and cool-down area.  The Beer tent was well used each afternoon and evening, especially Saturday. Even when the wind came up a little the course stayed calm.  Grand Rapids did a great job of hosting. Mark extended a special plea to those who may think this event isn't right for their ability or racing interest: YOU'RE READY! Mark's takeaway included a real appreciation for the various equipment reps and boat builders onsite: Filippi, Vespoli, Pocock, Croker, Dreher, Hudson, Concept2, to name a few. It makes such a difference to have those reps and their repair capability onsite.
MASTERS NATIONALS 2020 will be held at Lake Merritt in Oakland, CA. See you there!
AND, THATS A WRAP!
Episode Hashtag: Use #RRUSAMastersNats on social media to win rowing gear & services!

Our July winner of a consult from All-American Rowing Camp was Nancy Mack of

Northampton Community Rowing

on the mighty Connecticut River in Massachusetts. She used our July 31 #RRUSAGoGlobal hashtag on the Masters Rowing International group on Facebook! Nancy has taken US Rowing coaching training and recently accepted a position coaching novice youth at

Pioneer Valley Rowing Club

in Springfield, MA. Congrats, Nancy, and thanks for subscribing! 
Upcoming Topics:

Back-to-School Edition, Coaching ToolBox & Safety Check, Head Race Previews

Make it YOUR Show!

Get the word out about your own club and favorite rowing gadgets! Let us know if you'd like to come on the show and showcase your rowing club or demonstrate your gadget. No club is too small, too new, or too old; no gadget too cheap or too elaborate! Use our

CLUB NEWS FORM and our GADGETS & GEAR FORM.